Share
Regular price
Sale price
€14,99 EUR
Unit price
per
Sale
Sold out
Experience the luxurious and rejuvenating power of Sabish Naturals Rose Powder - a 100% natural and versatile product for your skin.
Our rose powder is made from the finest rose petals, carefully selected and processed to retain the maximum amount of nutrients and beneficial compounds. Rose powder naturally has a wonderful scent and contains numerous benefits for the skin. It is rich in antioxidants and vitamins that help reduce signs of aging and improve the overall health of your skin.
It has an anti-inflammatory effect and helps soothe irritated or sensitive skin.
Sabish Naturals Rose Powder can be used as a facial mask, as addition to your bath water or in your daily skincare routine.
It is suitable for all skin types and contains no harmful chemicals or synthetic ingredients.
With a bag of 30 grams you can enjoy multiple treatments and give your skin a healthy boost.
Add Sabish Naturals Rose Powder to your skincare routine and experience the benefits of this natural and effective solution for yourself.
Benefits of rose leaf powder for your skin:

Anti aging properties – The antioxidants in rose leaf powder help protect your skin from free radicals and environmental stressors that can cause premature aging.
Calms and soothes irritated skin – Rose powder has natural anti-inflammatory properties that help to calm and soothe irritated or sensitive skin.
Promotes healthy, radiant skin – The vitamins and minerals in rose powder can nourish your skin from within, giving you a healthy, radiant glow.
Reduces acne – The natural antibacterial properties of rose powder make it an effective treatment for acne-prone skin. It helps reduce inflammation and stimulate healing, leaving you with clearer, smoother skin.
Provides deep hydration – Rose powder has natural emollient properties, helping to retain moisture and providing deep hydration to your skin.
So in short, try Sabish Naturals Rose Powder to get young and radiant skin.
View full details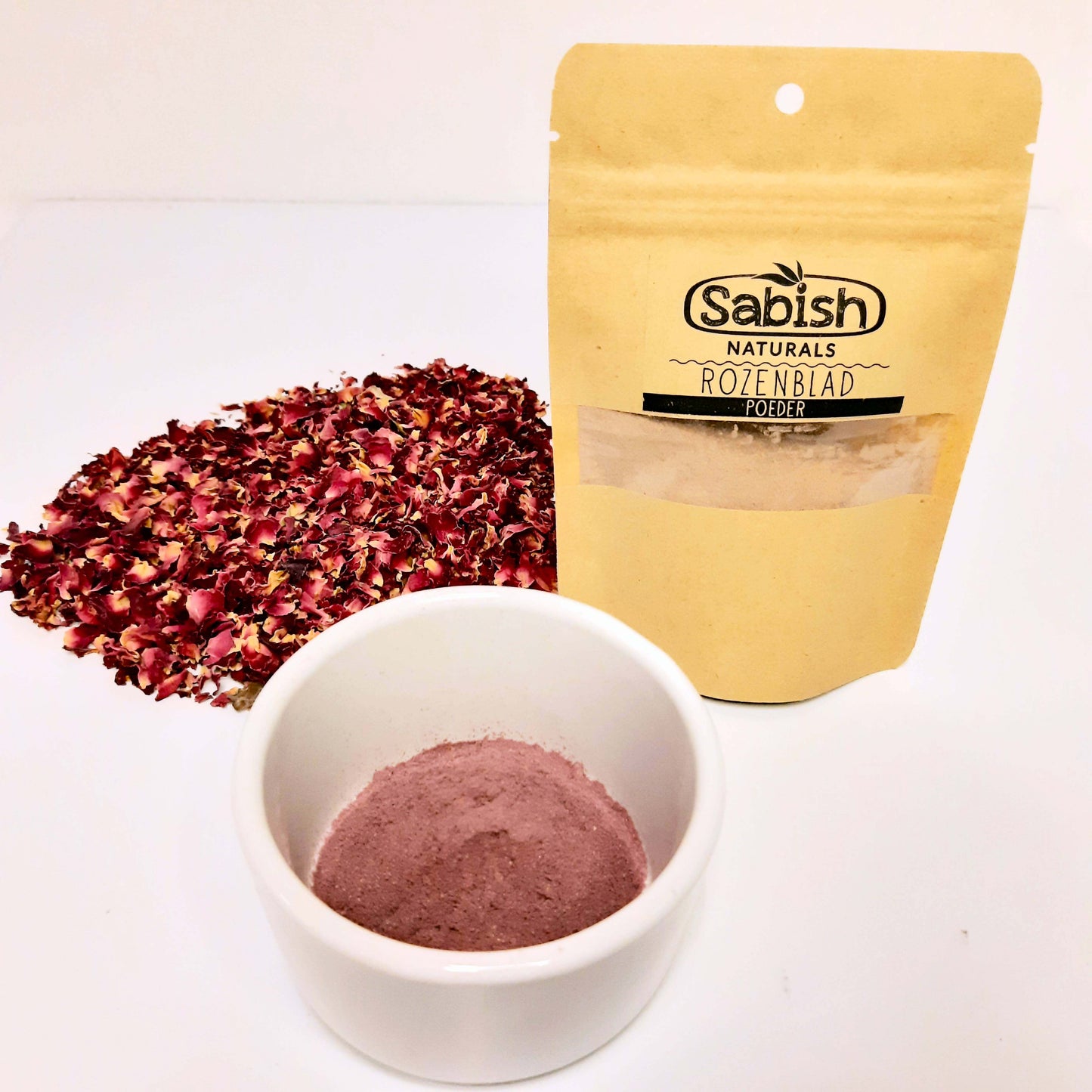 Snelle levering. Het product bevalt me goed.
De rozenpoeder doet zijn werk goed. Het voelt en ruikt goed tijdens gebruik, maar na de huidbehandeling is het resultaat echt uitstekend.
Wow wat een verschil! In een paar keer is mijn huid weer helder en levendig geworden.
Ik ben heel blij met mijn aankoop. Dit product had ik van een vriendin gehoord. Maar ik had niet verwacht dat dit zo een verschil zou maken. Mijn huid voelt en ziet er weer jonger uit.