Share
Regular price
Sale price
€14,99 EUR
Unit price
per
Sale
Sold out
Discover the power of Sabish Naturals French Green Clay - a 100% natural and effective solution for glowing skin. This clay is packed with minerals that help remove impurities and unclog pores, leaving your skin looking smoother and more radiant.
It is suitable for all skin types, even the most sensitive, and can be used as a face mask, hair mask, body wrap or as part of your daily skin care routine.
Sabish Naturals French Green Clay contains no harmful chemicals or synthetic ingredients, making it a safe and natural choice for your skin. With 100 grams of clay powder per package, you can enjoy multiple treatments and give your skin a healthy boost.
Choose Sabish Naturals French Green Clay and experience the benefits of this natural and effective skin care solution for yourself.
Package contents: 100 grams in fine powder form.

It is easy to use and can be mixed with water, oil, or other liquids to form a paste that can be applied to the skin or hair.
The advantages of French green clay:
French green clay, also known as montmorillonite clay, is rich in minerals such as magnesium, calcium, potassium and iron. As a result, it has several benefits for the skin, including:
Cleansing: French green clay is an excellent cleanser and helps remove impurities and excess oil from the skin. This makes it ideal for those with oily or acne-prone skin.

Detoxification: The clay also has detoxifying properties, which means it can help remove toxins and pollutants from the skin.

Exfoliation: The texture of the clay makes it a gentle exfoliant, which helps remove dead skin cells and promote smoother, brighter skin.

Firming: The clay has a firming effect and can help improve the elasticity of the skin.

Soothing: French green clay also has a soothing effect on the skin, making it ideal for those with sensitive skin or skin irritations.
In short, French green clay is a versatile and effective natural solution for glowing and healthy skin.
View full details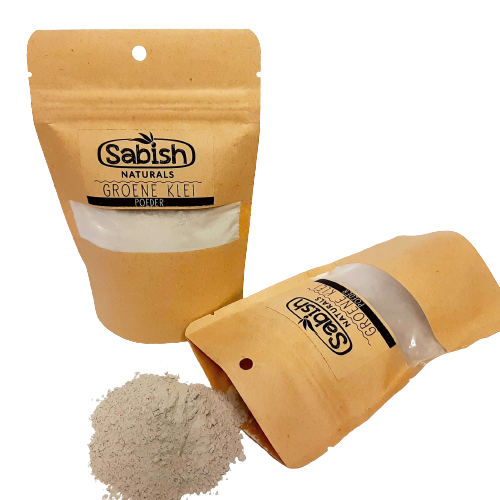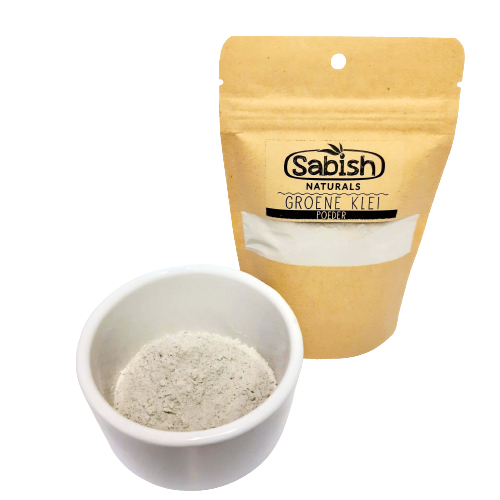 Goede service en goede product
Goede service en goede zuivere klei. Een pakje gaat best lang mee. Ik ben heel tevreden.
Good quality. Very happy with my purchase.
Good quality. Very happy with my purchase.
Fijne klei. Ben zeer tevreden!
Zeer fijne klei. Ben blij met mijn aankoop. Snel geleverd en goede kwaliteit. Bedankt!
Ik ben er erg blij mee! Mijn huid gloeit weer!
Goede kwaliteit groene klei. Dit heeft mijn huid erg goed geholpen.
Ik heb geen puistjes meer en mijn huid ziet er al jonger en gezonder uit. Ik ben er heel blij mee.
Ik ben blij met mijn aankoop
Top kwaliteit spul. Mijn bestelling is snel geleverd.
Deze groene klei is heel fijn, voelt ook heel goed aan op de huid. Na gebruik merk ik gelijk dat mijn huid echt schoner is. Ik had veel puistjes en dit helpt echt goed!